Adventures 4 Fun was founded in 2007, designed to motivate adventurous souls to push their envelop in outdoor recreation and nature. Now an avid cyclist, hiker, skier, and competitor in numerous endurance events, my passion extends towards training and elevating others to achieving their outdoor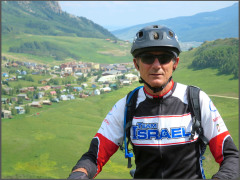 goals. My participation in the Ironman and Olympic size triathlons, Leadville 50 and 100 MTB races, TransAlp Europe, Sea Otter bike race, and several marathons and double century bike races has provided me the experience to train others in outdoor recreation. Though currently specializing in training for and hosting endurance bike rides, I will also challenge you to extended multi-sport worldwide cultural events.
The Endurance Events listed on this site have been strategically chosen as challenging activities to push the envelope both physically and mentally. I have had personal experience participating in all of them, and have selected my favorites to share them with you. Please use the contact form to let me know which event(s) interest you, and I will help you train in achieving your goals to get there successfully.
TEAM Israel, the team I currently race with, hosts road rides and mountain bike rides three days a week. These are listed under Weekly Rides. Please contact me if you would like to train with us and I will send you information on route locations each week.
Check out TEAM Israel on Facebook, watch our YouTube videos, or rate us on Yelp.
Join Adventures 4 Fun. Ride, challenge your limits, and explore the outdoors.